Registration
Online registration will be open and continue up until Thursday, August 29 at 3:00 pm. You are also welcome to come register in person at our "Registration Party" on Friday, August 30 from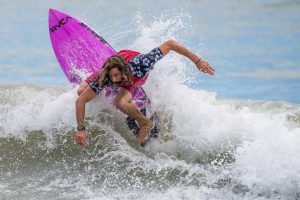 6:00-8:00 pm at Keith's Oyster Bar on the Cocoa Beach Pier.
401 Meade Avenue Cocoa Beach FL
Beach registration will be open at 7:00 am on Saturday, August 31st. You must be registered prior to the beginning of the preliminaries of the desired heat and a $10 late registration fee will be incurred.
Registration Rule of Competition
Surfers that register for a professional division are not allowed to compete in any amateur surfing. Our policy is designed to allow for fair competition among surfers in the same skill range. This policy is not up for discussion. Thank you for understanding and please contact Savanna Lanza slanza@kidneyfla.org with any questions.
Pro Divisions
| Division | Age Group |
| --- | --- |
| $5000 Mens Pro | Open |
| Mens Junior Pro | 17 & Under |
| Womens Pro | Open |
| Womens Pro Longboard | Open |
| Mens Pro Longboard | Open |
Amateur Divisions
| Division | Age Group |
| --- | --- |
| Girls Pollywog Push in Only | 9 & Under |
| Boys Pollywog Push in Only | 9 & Under |
| Super Menehune Girls Paddle In | 9 & Under |
| Super Menehune Boys Paddle In | 9 & Under |
| Menehune Girls | 10-12 |
| Menehune Boys | 10-12 |
| Boys | 13-14 |
| Junior Womens | 13-17 |
| Junior Mens | 15-17 |
| Women | 18-34 |
| Men | 18-34 |
| Mens Masters | 25-34 |
| Senior Womens | 35-44 |
| Senior Mens | 35-44 |
| Grand-Masters Womens | 45-54 |
| Womens Legends Shortboard | 55+ |
| Womens Legends Longboard | 55+ |
| Grand-Masters Mens | 45-54 |
| Mens Legends Shortboard | 55-64 |
| Mens Legends Longboard | 55-64 |
| Mens Grand Legends | 65+ |
| Junior Womens Longboard | 17 & Under |
| Junior Mens Longboard | 17 & Under |
| Womens Longboard | 18-39 |
| Mens Longboard | 18-39 |
| Senior Womens Longboard | 40+ |
| Senior Mens Longboard | 40+ |
| Stand Up Paddle | Open |
*Every competitor entered in the contest will receive one official NKF Surf Festival contest t-shirt after they have competed in their first heat. Competitors surfing in multiple divisions will only receive one free t-shirt no matter how many divisions they have entered to surf in*